Inspirational arts and crafts studio, Creative Joy, announces the reopening of its studio after 2.5 years of closure with 15 city officials, including the mayor, in attendance
Unleashed creativity is good for the soul. Angélique Talbert is a self-proclaimed "JOY-OLOGUE" and reiterates her commitment to bringing out the creativity of artists of all ages, art educator, mental coach and founder of Creative Joy Arts Studio recently announced plans for the reopening of the art studio. Formerly known as The Pink Studio, Creative Joy Arts Studio went on a short hiatus for 2.5 years during the pandemic and is now bigger and better than ever, with a grand opening ceremony scheduled for Wednesday, September 21. at 3:30 p.m. There is also an opening weekend which will be held on the 24th and 25the September from 12 p.m. to 7 p.m., with fun free lessons to celebrate the feat.
"I started Creative Joy because I wanted creators of all ages to have a magical space to let their imaginations run wild and their hearts come back to center. During these times, people need more joy, peace, love, and creativity in their lives more than ever. A place where the inner child can come out and play without any judgment and enjoy the creative process. After the last two years everyone has been through, creating art helps reduce anxiety and stress and you can just "PAINT!!!– Angelique Talbert.
Located in the Del Amo Fashion Center at 3525 Carson Street #327 between Dick's Sporting Goods and JC Penny's, the studio is whimsical, bright, bold, and a Willy Wonka-inspired art factory, designed to inspire people to imagine, explore, PLAY and create unique DIY art projects with art educators to teach and guide through the process. The new 2,500 square foot studio consisting of canvas covered walls and floors, a paint bar, glitter bar, jewelry bar, slime bar and a plethora of embellishments for every project offers amazing resources to spark customers' creativity. Crafters enjoy tools, instructions, materials and a clean, inviting and inspiring venue, plus a fantastic Art Bar menu of over 25 carefully curated DIY projects to choose from, providing an all-in-one experience. understood to become an "ultimate creator". Guests can let loose and create without worrying about cleaning up a mess. The most popular projects are painting on canvas, wood, glass and ceramics, tie-dye, paint drips, fiber art, resin projects, hat design and custom slime is always a success.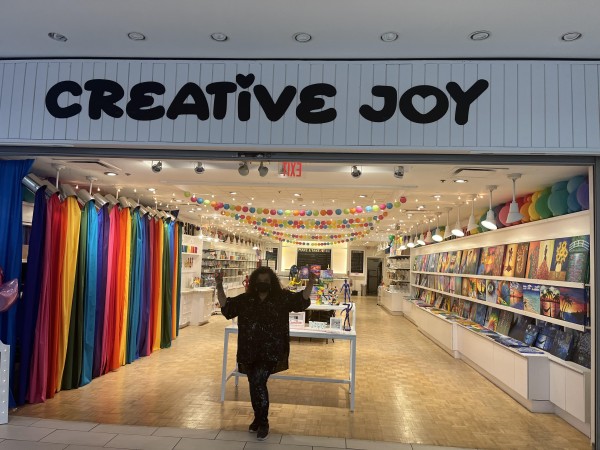 In addition to creating an inspiring art lab space for creators to enjoy at "Make and Take" tables, Creative Joy also offers an assortment of art kits and seasonal on-the-go gifts. They specialize in super exciting fun parties and offer over 20 different themed creative experiences, from pamper and paint parties to glow-in-the-dark paint parties. They also design bespoke signature events including: corporate team building, fundraisers, wedding and baby showers, couples nights, parent outings, teen nights and paint collaborative family murals.
Described as The Fairy Art Mother by her students, Angélique draws on over two decades of experience as an art educator, coach and transformational speaker as CFO-Chief FUN OFFICER and JOY-OLOGIST to create an experience one of a kind. for its customers. She and her mother Sandra, who is a gifted artist who does custom portraits at the studio, have been a dynamic duo for more than 20 years, teaching classes and creative workshops in three states. The Creative Joy team believes that creating art is not about perfection, but rather about enjoying the journey of joy and the creative process. Art is a great adventure and is for EVERYONE! You enter this Creative Joy Zone with an open mind and leave with a masterpiece!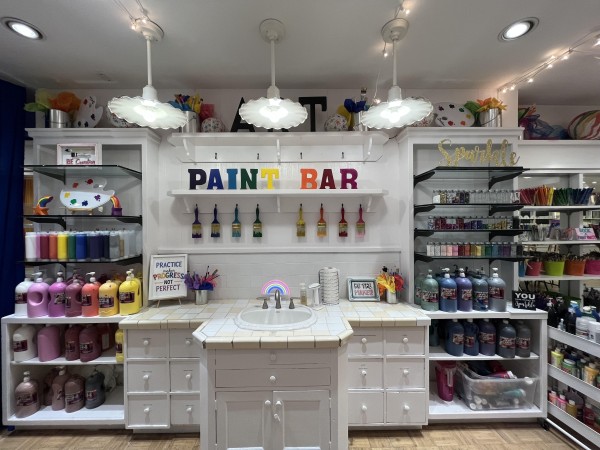 The historic reopening is rightly generating a lot of buzz as people look to be part of the groundbreaking event which will feature plenty of fun and festive activities including free classes, raffle prizes, light refreshments, painting facial, goodie bags for the kids, and free gifts with the purchase of $20 or more.
For more information on Creative Joy and the grand opening, visit – www.creativejoy.studio. Creative Joy also has a growing online community of art lovers through social media, including Facebook and instagram.
Media Contact
Company Name: creative joy
Contact person: Angélique Talbert owner and financial director Chief Fun Officer
E-mail: Send an email
Call: 310-595-4314
Address:Del Amo Fashion Center 3525 Carson Street #327
Town: Torrance
State: CA 90503
Country: United States
Website: https://www.creativejoy.studio/