As scientists continue to warn of the irreversible effects of climate change, a small group of creative West Australians are using art to help people live on a damaged planet.
Key points:
"Weather studio" theaters combine science and art to explain climate change
People can observe and learn about changing weather conditions in their area
It is hoped the creative approach will help people adapt to the challenge of living with climate change
Jo Pollitt, Doctor of Philosophy, has spent years figuring out how to help people overcome apathy and feel overwhelmed by the threat of climate change.
"We're increasingly disconnected from our surroundings because of technology, constant distractions, phone use, workloads," she said.
Dr Pollitt has started a new research project that would involve setting up small theaters called weather studios in regional communities in WA.
She said people can visit the interpretive art facilities to observe the weather and learn how its changes affect the area.
"The weather studio will be a place where we bring together artists, scientists and educators," she said.
"To try to address some of the major issues that we face."
The first of these weather studios is planned for Nannup, approximately 255 kilometers from Perth.
Dr Pollitt said art could help people come to terms with the problem from a new perspective.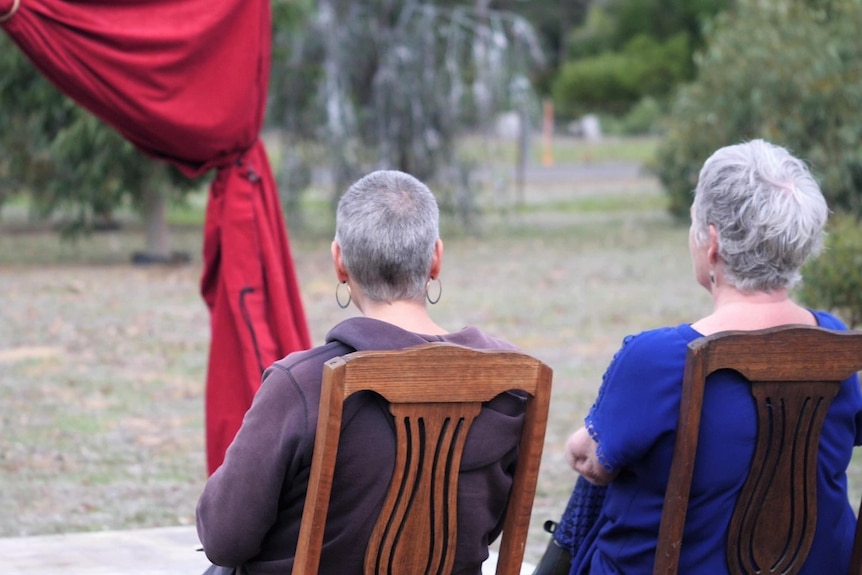 "I absolutely believe that if we can reestablish a connection, it will help us to generate empathy with what is going on," she said.
A new way to explain the weather
Weather studios would also be a resource for collecting and sharing stories and statistics on how the weather is changing in regional and rural areas.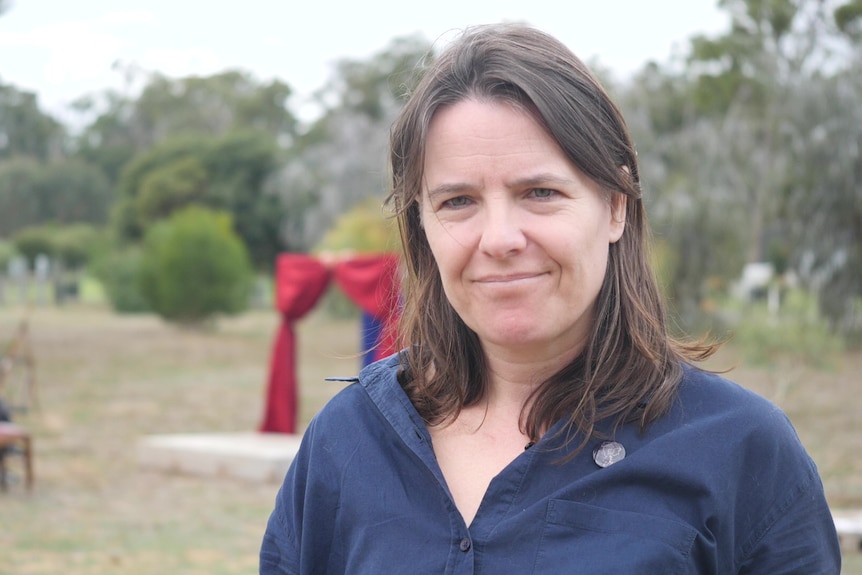 Dr Pollitt said this information would eventually be shared by schools and the ultimate goal would be to change the way the weather is reported.
She said information collected in weather studios could be broadcast on the radio so that regular weather forecasts are made more meaningful with local stories, facts and experiences about how the climate is changing over time.
"So when you're in the car you hear the weather report and then you get another creative weather response somewhere in Western Australia," she said.
"[It could be] a Noongar weather story of place and time, a settler's story, a childhood memory, a farmer's response."
Conversations with the Rain
The concept of weather studios grew out of Dr. Pollitt's earlier project, Conversations with Rain, which encouraged children to feel and learn about the weather through a series of creative mindfulness exercises, including journaling.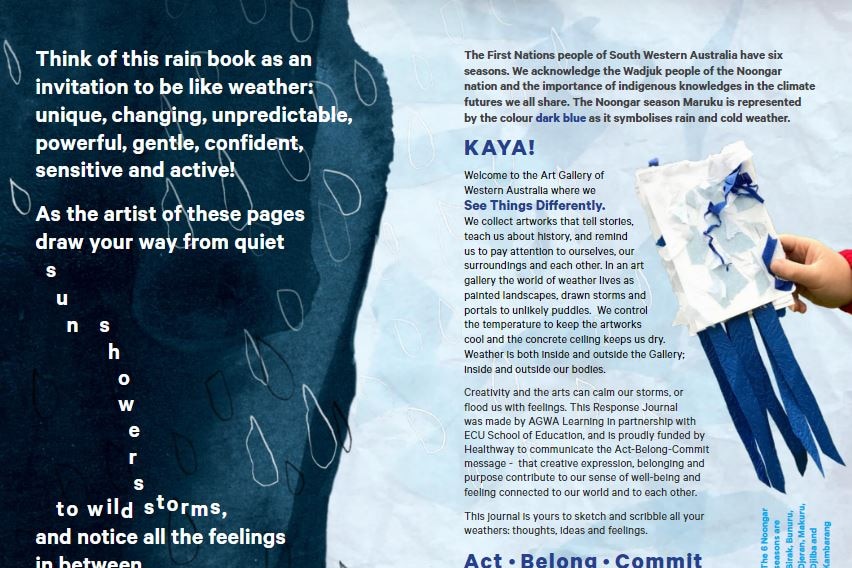 Co-creator Lilly Blue, who leads learning and creativity research at the Art Gallery of WA, said the journal was used in student workshops and distributed at places such as the Bunbury Regional Art Gallery .
"It was very clear that the creative processes we worked with definitely raised the attention," she said.
"First Nations and Indigenous practices have been working on this for thousands and thousands of years."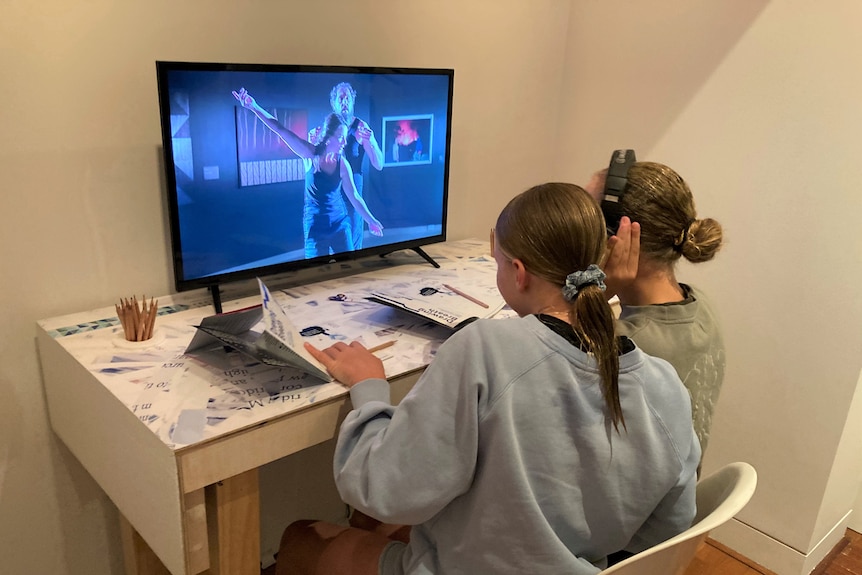 "The hope is that a more connected relationship with our surroundings means we're more likely to notice and care more deeply," Ms Blue said.
"Art elevates consciousness"
Menang Ngadju elder Carol Pettersen said having a strong sense of time has helped indigenous people adapt and survive throughout history.
She said art could play a powerful role in helping today's society learn how.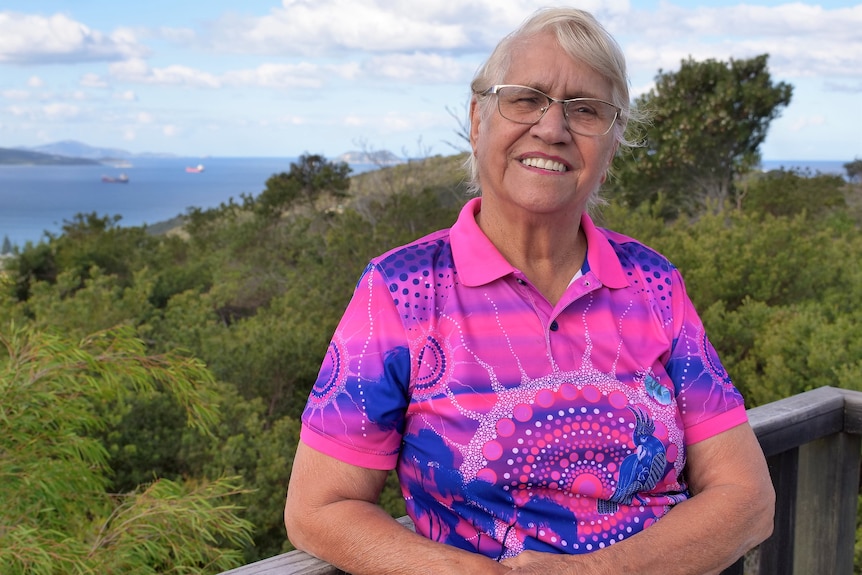 "Our behavior was in response to how nature changed with the season and the weather," she said.
"Our Aboriginal people, we survived the Ice Ages, we survived all these other mass extinctions that have happened on the planet."
Ms Pettersen recently worked on the Genestreme Sculpture, a 3.5 meter 'evolving tree', located in one of the few protected bush properties in the Porongurup area. The sculpture shows the extinction of plants and wildlife.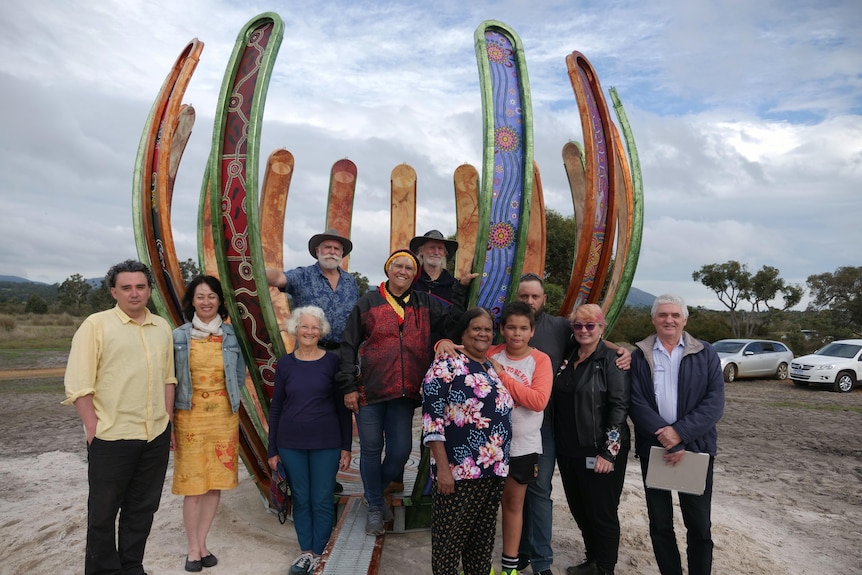 "It's science using art to tell the story," she said.
"[To raise] this awareness of where we are and what our response is going to be."
Additional production by Mark Bennett and Tom Edwards.