As a prominent Baltimore funk quartet Pigeons playing ping pong approaching fifteen years on tour, the group presents Perspective, a twelve-track studio album. PPPP's storied career has carried artists across the country, a steady upward migration defined by the continued achievement of milestones, the building of a success story made possible by an unwavering commitment to craftsmanship and a penchant for pleasure. Perspective is a summative assessment of the journey as the crow flies.
The challenges presented by the current pandemic were daunting for a quartet of seasoned road warriors used to putting on over a hundred shows a year. The perspective became a creative stopgap during tough times, with each band member finding catharsis through the music.
"Our first thought was, 'although we can't play live, we have to keep the music alive, even if it's just for our own sanity,'" says frontman "Scrambled Greg" Ormont. "Music is our life force and we have to keep the fire going. So instead of watching the world go by, we quickly decided to put all of our creative energy into the studio and rejoice in the healing power of music.
Working safely from Wright Way Studios in their hometown of Baltimore, the band dove headfirst into music creation as the world slipped into quarantine, bringing Perspective to life.
Heralded by four standout singles, Pigeons Playing Ping Pong garnered support from several acclaimed guest musicians throughout the record. "Indiglo," released in November, is an upbeat song that combines the uplifting funk of PPPP with the masterful keyboard work of Zach Gill (ALO). The song is a lively reflection on personal progression and an ode to the subtle complexities presented by life on the road.
The Funky Foursome returned in February with an unreleased original single titled "Elephant," an infectious dance groove energized by a jumbo horn line from Nashville funk collective Here Come The Mummies. The single also featured a medieval-themed music video, shot in Maryland's Enchanted Forest.
The groovy, liquid jam "Move Like That" arrived in March with a gripping music video captured live at the Agora Theater in Cleveland. The raunchy dance floor anthem featured funky percussive textures from The String Cheese Incident's Jason Hann.
Finally, fans celebrated the studio treatment of "Sir Real," a lionized rarity in the band's extensive live catalog. Originally composed during a live performance in a moment of divine improvisation, "Sir Real" is a cerebral nod to the band's adoring fanbase and the voltaic power of live performance.
LISTEN – "Indiglo"
WATCH – "Elephant"
WATCH – "Move Like That"
https://www.youtube.com/watch?v=C5SBY1oOOMs
LISTEN – "Sir Real"
Pigeons playing ping pong
Perspective
List of tracks:
elephant
Move Like That (ft. Jason Hann)
lost online
Mr Real
Water
The truth
Su Casa
distant times
Newspaper deliverer
Swirled
Beanstalk
Indiglo (ft. Zach Gill)
PPPP is in the midst of its Perspective 2022 tour, hitting venues and festivals across the country throughout the spring and summer. Tickets for all shows are on sale now on the band's website.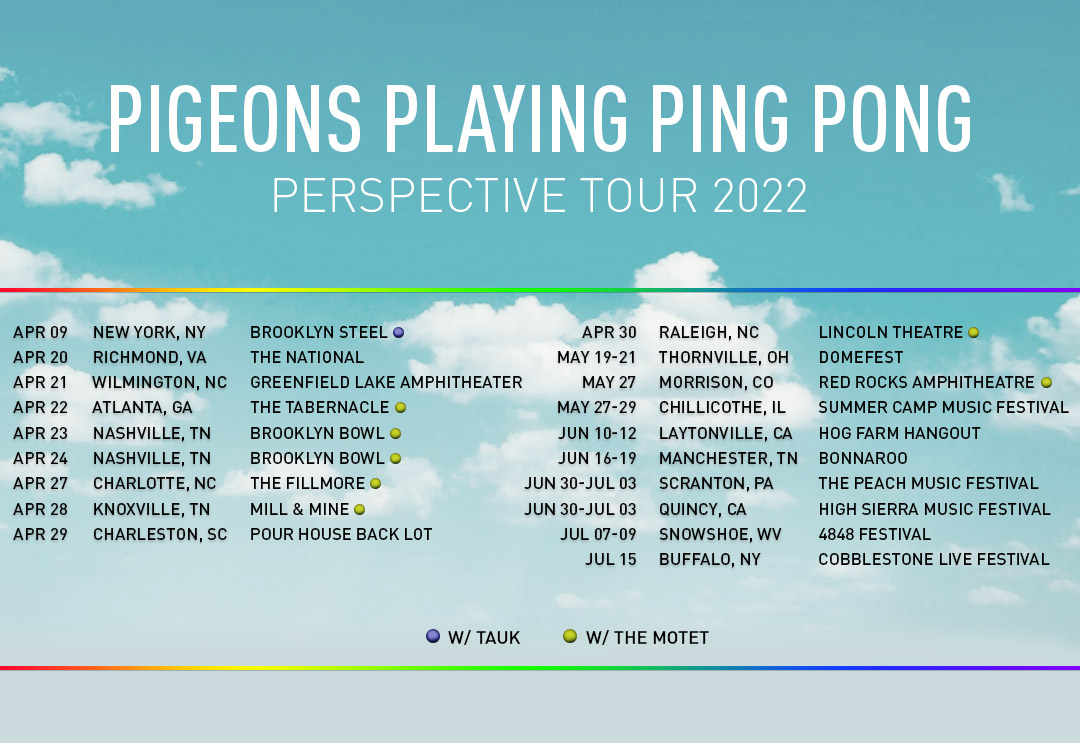 Hailed as "Musical Explorers" by Rolling Stone, Pigeons Playing Ping Pong – vocalist/guitarist "Scrambled Greg" Ormont, guitarist Jeremy Schon, bassist Ben Carrey and drummer Alex "Gator" Petropulos – took flight for the first time in 2007 at the University of Maryland. , and has since played over a thousand shows across the continental United States. Driven by a relentless work ethic and ecstatic sound, the four fun-loving musicians have built their reputations on epic, blissful gigs blending addictive funk grooves with psychedelic jams and intoxicating energy. Described by Glide as "a band that melts faces and pulls no punches", PPPP has also been hailed by Relix as "cheerful" and "dance worthy", while Jambase simply calls them a "powerhouse". Acting as their own independent label, the quartet have released six studio albums, including the most recent "Perspective", a dynamic psychedelic funk odyssey powered by sonic fireworks.
"We hope you listen to 'Perspective' and remember that life is fleeting but amazing," Ormont said. "Remember the good times, be excited about the future, but above all, dance your heart out every step of the way."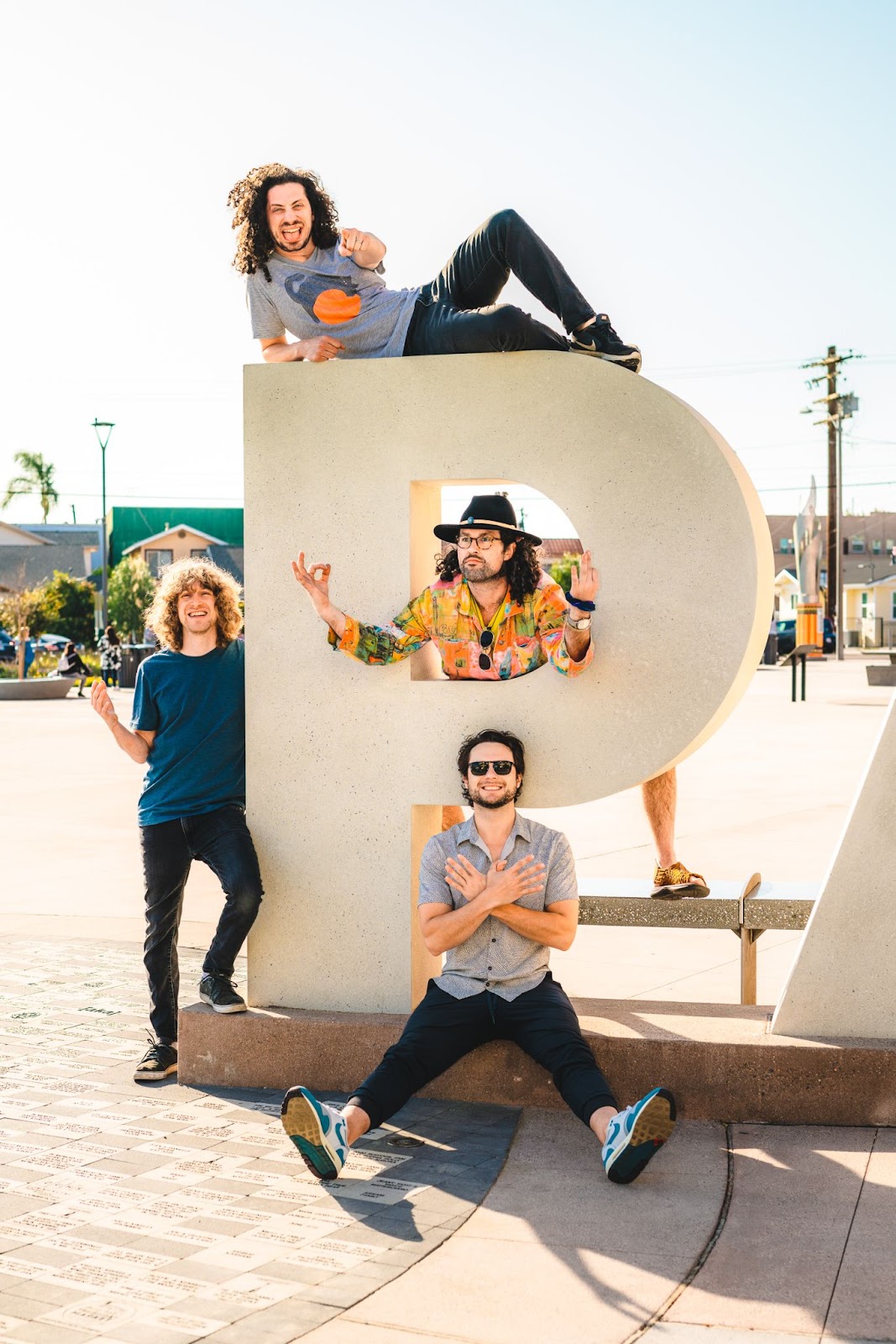 Thanks to their wildly enthusiastic live shows, the band have transformed into a cult phenomenon loved by their rabid and ever-expanding fan base, affectionately nicknamed "The Flock". For a full list of tour dates and more information, visit pigeonsplayingpingpong.com.